Department of Sanskrit and ORF organize talk by Shri Dinesh Kamat at ORF Mumbai on 23rd December 2014.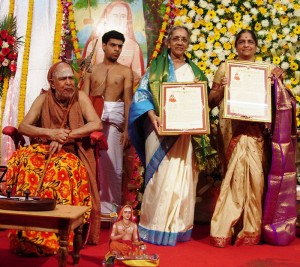 'Adi shankara Puraskara 2014' was conferred on distinguished professors of our department in the presence of Kanchi kamkoti shankaracharya on 11th December 2014. Dr. Uma Vaidya (Honourable Vice Chancellor, KKSU) and Dr. Gauri Mahulikar (Head, Department of Sanskrit, University of Mumbai ) were felicitated with this prestigious award. Department of Sanskrit feels great pleasure and pride for this honour.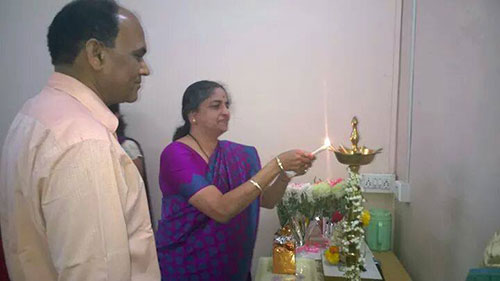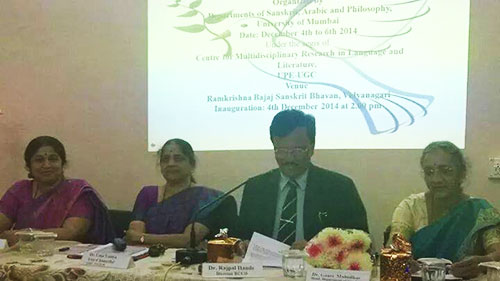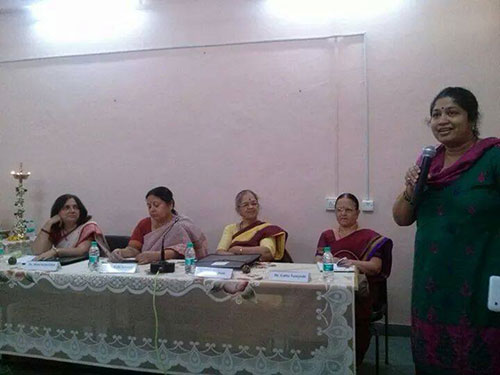 DAY 1
INTRODUCTORY SESSION – The National Seminar on RELEVANCE OF SCRIPTURES FOR PEACEFUL AND HARMONIOUS EXISTENCE was opened by erudite personalities like Dr. A K Srivastava, Dr. Uma Vaidya and Dr. Rajpal Hande.Dr. Madhavi Narsalay discussed the word 'scripture' in the preamble. Esteemed scholar Dr. Uma Vaidya spoke about the main components for the Seminar as environmental peace, interfaith and inter-religious harmony and finally role unity in inter-societies. Dr. Shubhada Joshi discussed the importance and relevance of this study in a period of multilingual philosophies existing together in the present political atmosphere.
Dr. Yashwant Pathak spoke on the necessity for preservation of Loksanstha. with reference to the works of renowned saints like Dyandev, Tukaram and Ramdas; while Dr. AG Tilak spoke on the relevance of Saint Literature.
DAY 2
Session one of Day 2 revolved around the philosophy of peace as expounded in the great scripture of Yoga Vasistha. Speakers Dr.Sunanada Shastri and Ms. Harshada Sawarkar stressed upon the relevance of the text as a revolving around the concept of 'Liberation' and various paths to attain it through four basic requisites/ gatekeepers Shanti (peace), Vichara (enquiry), Santosha (contentment) and Satsanga (good company of elevated people).
The second session was an eclectic mix of Islamic and Upanishadic papers, with scholars like Dr. Mohd. Sanaullah, Dr.Yajneshwar Shastri, and Dr. Madhavi Narsalay. Dr. Mohd. Sanaullah shared insights with reference to the canonical texts of Islam around the concepts of tolerance, faith and universal brother hood and peace. Dr.Yajneshwar Shastri stressed upon the learnings from Upnaishads as spiritual content showing us the path wherein all principles taught by them are related to peace, harmony and unity. And Dr. Madhavi Narsalay on the other hand touched upon Upanishads as a pedagogical device to revisit ancient value education through the type of teaching and learning process employed by them.
Session 3 of the day dealt with the popular philosophy of the Bhagwad Gita. Dr. Gauri Mahulikar detailed concepts of Swadharma and Yajna in the Gita as finally combining to interpret that doing one's duty selflessly with the attitude of sacrifice will ultimately lead one to the path of self-fulfillment. Ms. Shakuntala Gawde stressed on releasing the text from the conventions of religion and caste to eliminate differences and consider an in-depth interpretation for bringing harmony in society through concepts of equality of god, beings and mind (intellect) mentioned in the Gita.Whereas, Swamini Vibha Chaitanya shared touching anecdotes about the practical applications of spiritual theories in everyday living.
Day 3
The proceedings will continue with stalwarts like Dr. Minal Katarnikar discussing the role of interfaith dialogue, Dr. Lalita Namjoshi talking on 'Pasaayadaan' and Universal Peace and brotherhood and Dr. Shubhada Joshi speaking on ponderings of Dyaneshwari for a harmonious existence.
Later in the day we will have Prof. Shafique Shaikh sharing the contribution of Islam to peaceful co-existence, Pandit Ghulam Dastagir Birajdar sharing some insights on Hindu and Islamic scriptures, and Dr. Chandrakant Puri discussing scriptures and social reforms with stress on Islam.
The valedictory session will have Dr. Bhuvan Chandel speak on the ethical perspective of Greek thinkers and Kant for quality life with some interactions on different perspectives on interfaith dialogue.