The Department of Sanskrit was established on 2nd January 1963. Eminent Indologist and Sanskrit scholar Prof. H. D. Velankar was the first R. G. Bhandarkar Professor and Head of the Department. This Chair of Professor of the Department of Sanskrit is named after the veteran Sanskrit scholar, academician and social reformer Sir R. G. Bhandarkar. Department was headed by stalwarts like Prof. S. A. Dange, Prof. S. S. Dange, Prof. Alka Bakre, Prof. Uma Vaidya (Former Vice Chancellor, Kavikulaguru Kalidas Sanskrit University) and Prof. Gauri Mahulikar (Dean and Acting Vice Chancellor, Chinmaya Vishvavidyapeetha)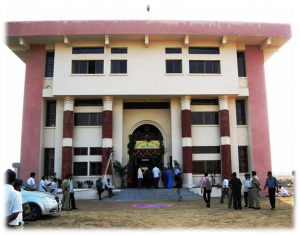 The Department is engaged in teaching and research pertaining to Sanskrit Language and Literature. It has well-experienced teaching faculty which undertakes research activities in their respective field of research as well as popularizes Sanskrit amongst masses through programme like Simple Sanskrit Speaking Classes sponsored by the University Grants Commission. The motto of the Departments is, 'Sanskritam. janaya '- Sanskrit for All. The Department participates in various research activities under the University with Potential for Excellence Schemes.
Sanskrit department has its own building named after the renowned industrialist and philanthropist Late Shri Ramakrishna Bajaj, which is well-equipped with facilities for teaching and research. Donation of 1.25 crores is given by Shri Shekhar Bajaj, CMD, Bajaj Electricals Bajaj group which is well known for dedication and philanthropist commitement and 1.25 crore was granted by University of Mumbai.
Department offers various scholarships and prizes to meritorious students. It offers various courses in Sanskrit language and interdisciplinary studies. Department had MoU with Oxford Centre for Hindu Studies  for the period 2016-2021. Department is actively engaged in research, publications, organization of seminars and workshops.
Vision and Mission of the Department:—
Vision:
Department of Sanskrit, University of Mumbai, to be ranked as the   leading department nationally and internationally. Achievement of national welfare through Sanskrit – 'Sanskritam Janaya' is our aim. Our firm conviction is that knowledge does not only give high standard of living but it also sprinkles moral and rational values in human beings.
Mission:
To build and maintain a Department that shall be regarded as being equal to the best globally in terms of relevance of teaching and research; quality of support; and learning opportunities.
To assimilate and transmit the values of honesty, equality, human dignity and inclusivity.
To impart inter and trans- disciplinary knowledge and life skills that build competencies to facilitate multi-dimensional growth of students.
To foster global competence of learners and support their career building.
To collaborate regionally and globally with educational institutions, research centers, organizations to enhance academic and research experiences.
— Value framework: Achieving the above while maintaining highest standards in the areas of:
◦Teaching, innovation, publications, curriculum development, student  engagement, ecosystem development.
◦Teamwork within the Department of Sanskrit, as well as collaboration with other departments, based on mutual respect, trust and integrity.
Contact us:
Smt. Vaishali Patil and Smt. Rekha Kadam 
Ramkrishna Bajaj Sanskrit Bhavan, Behind Anna Bhau Sathe Guest House, Vidyanagari, Santacruz, Mumbai-400 098.
Contact 022-26530201 for more information
Email ID – departmentofsanskrit@gmail.com